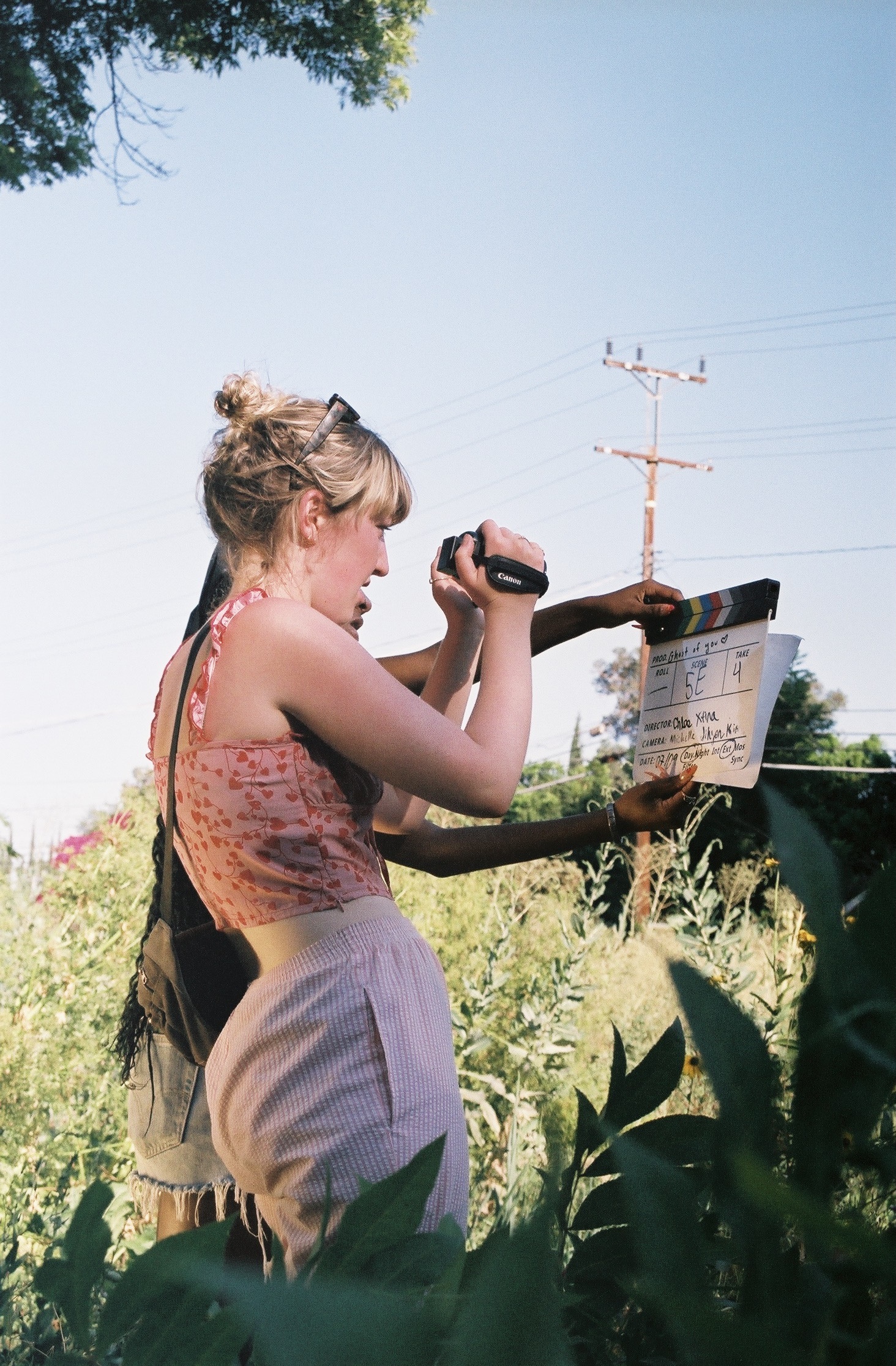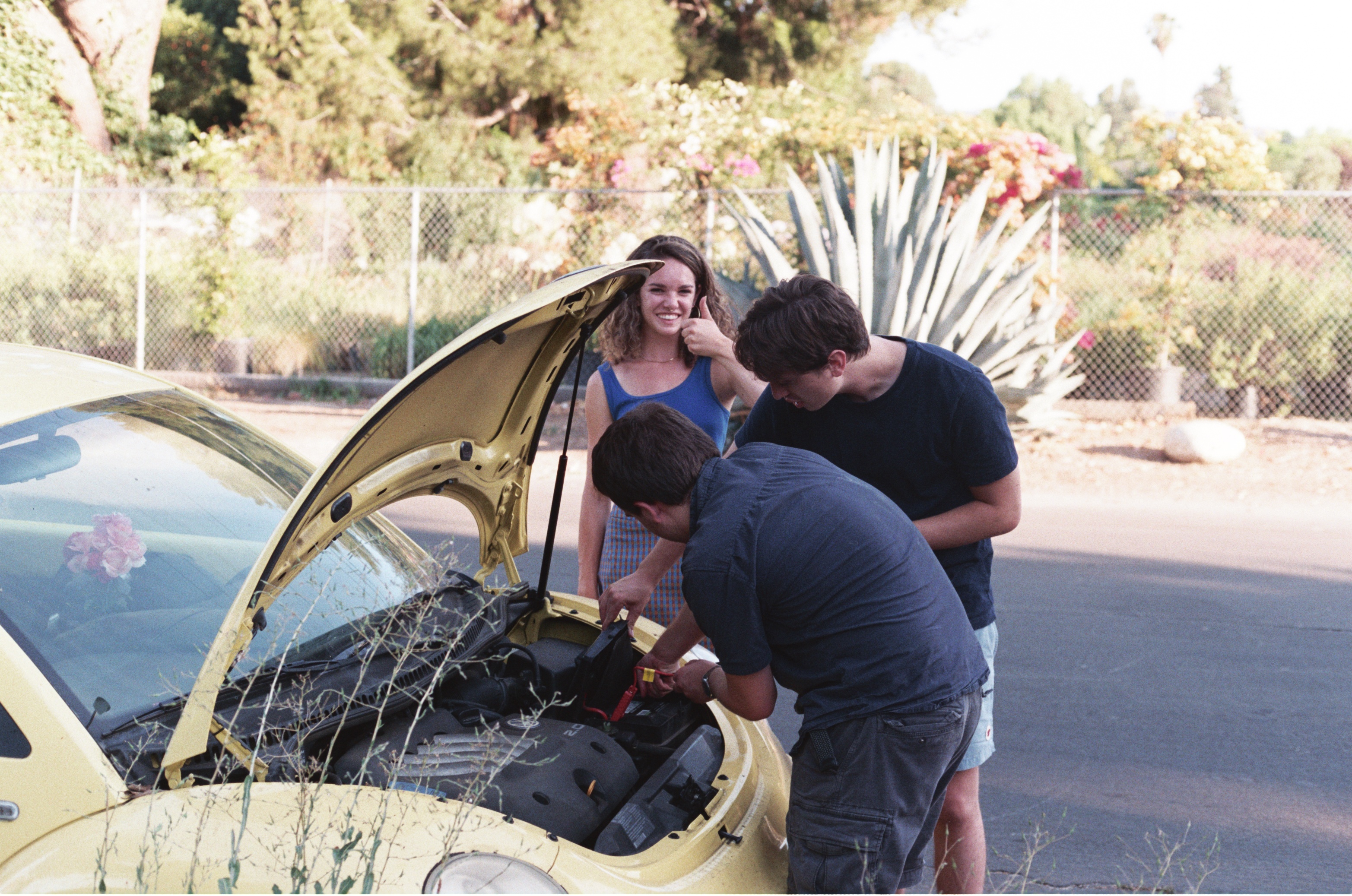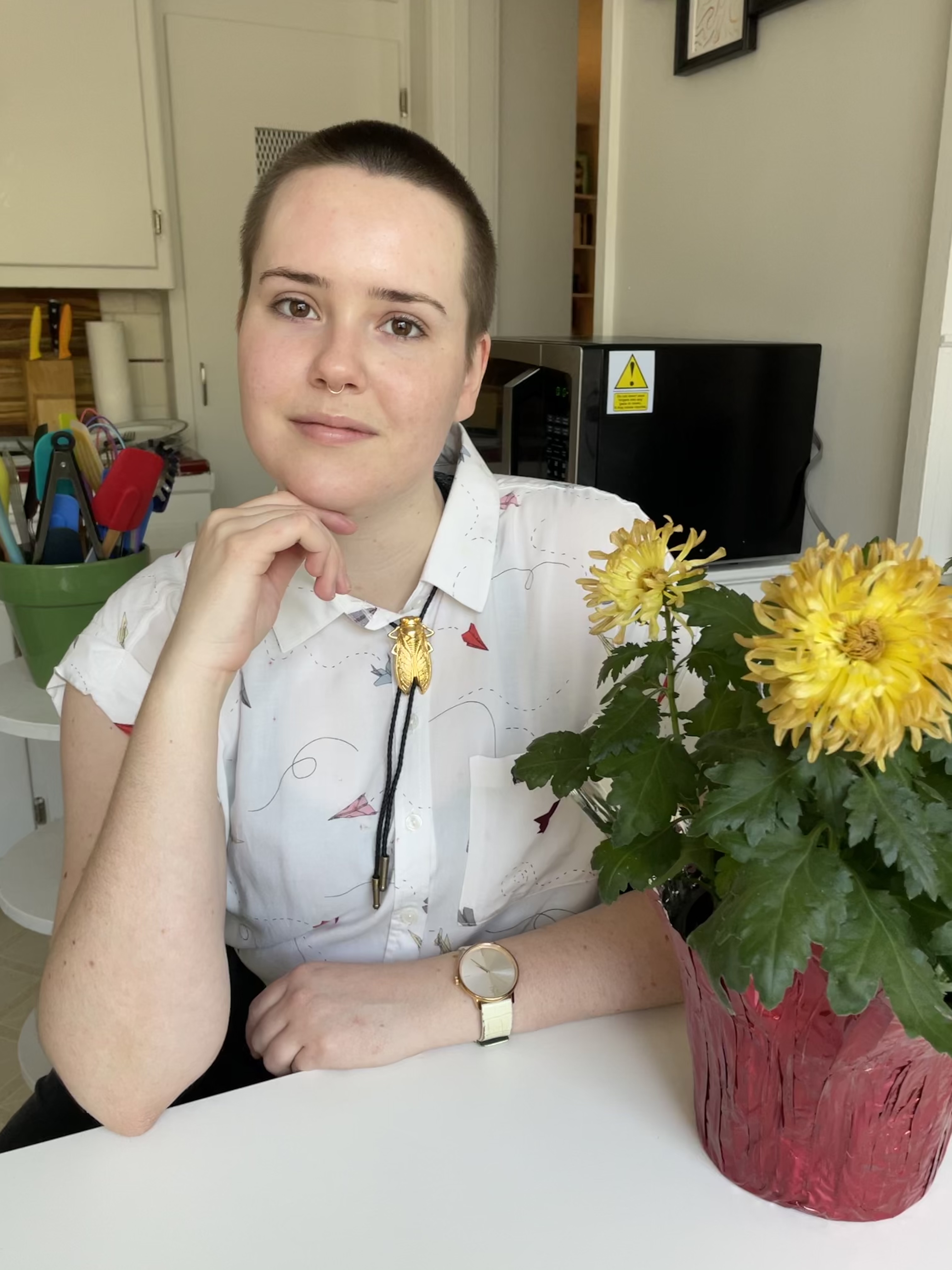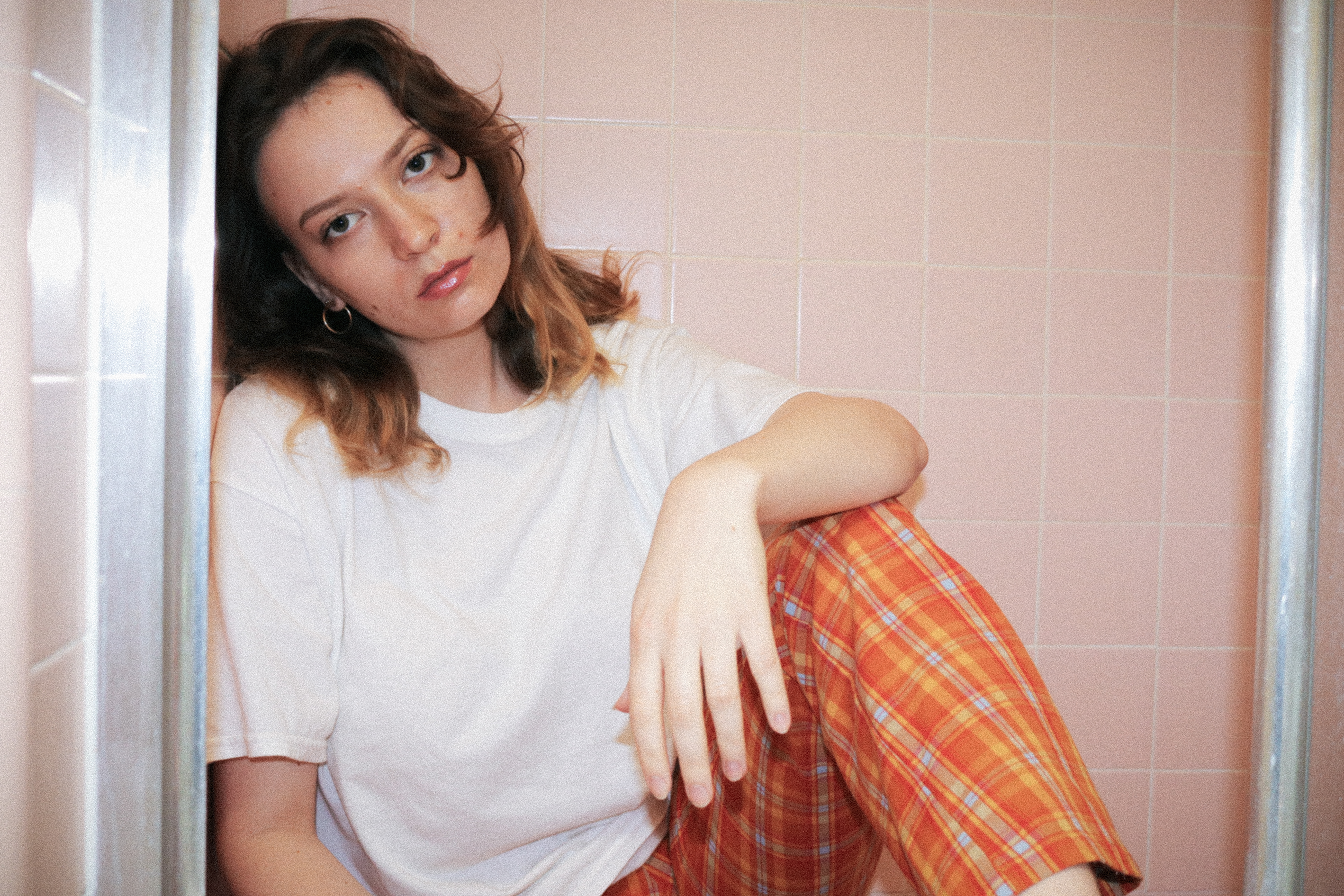 chloe xtina: writer-director-producer

Chloe Xtina (she/her) is an NYC based filmmaker + playwright who uses the lens of magical realism to explore relationships to desire, the body, and hypersexualization. She is especially interested in how these themes interact with young people socialized underneath patriarchal gazes and the language she uses to describe her work is always changing. Her first film, The First Taste, premiered at The Tank's 2020 FemFilmFest and was an official selection of NoBudge, where it made NoBudge's 2020 Films of the Year List. The film was also profiled in Women and Hollywood alongside But I'm a Cheerleader for their "Teen Dreams and Nightmares" VOD Picks. This year, Chloe wrote and produced Down by the Water, a short she developed with actress Gabrielle Carrubba for Carrubba to direct. The film was shot in Armonk, NY and is currently in post-production. Her plays have been produced in New York, London, Los Angeles, and the Bay Area. In early 2021, she was a playwright-in-residence at Project Nongenue. Chloe recently graduated UCLA's School of Theatre, Film, and Television where she studied playwriting and film. Currently, she is writing her first feature and directing music videos for Mikaela Jane . Chloe loves to write about her childhood home and first love, California. She is incredibly excited to return to Los Angeles to work with her close friends + favorite artists on Ghost of you! chloextina.com










lucy urbano: "mae" - co-producer

Lucy Urbano (she/her) is an LA based actor, playwright, and producer from Berkeley, CA. She has performed around the United States onstage, in commercials, and film, and trained extensively in acting at Oakland School for the Arts, Fontainebleau School of Acting, and currently at UCLA's School of Theater, Film, and Television. Her plays have been produced across the Bay Area, and she is the co-founder of HIGHBALL Media, a new multi media production collective. Urbano is dedicated to uplifting the unheard voices of interracial families and mixed women such as herself through her work.













michelle jihyon kim:director-of-photography

Michelle Jihyon Kim (she/her) is a Koreatown based filmmaker and painter. She has worked for companies such as A24 and Blumhouse, and shown her work at Frieze Los Angeles. Since graduating from UCLA, Kim has worked as a Director of Photography on several short films and is developing her first feature film.









alyssa grace: producer-costume designer

Alyssa Grace (she/her) recently graduated UCLA with a major in World Arts and Cultures where she trained in performance theory, arts activism, and visual studies. She works to create in a variety of facets including photography, film, poetry, dance, acting, and music. Alyssa explores the meaning of body and performance and its location in the political and cultural discourse. Alyssa seeks to create content that lives outside the confines of comfortability and instead reveals the beauty of disorientation and ambiguity.



charlie stuip:
production designer - co-producer

Charlie Stuip (she/her) is a writer from Oakland, California. She studied writing at Oakland School for the Arts where she wrote her first novella, Everyone's Itching for a Good Drive. Currently she's working on her bachelors in film at UCLA, where she works on student film crews as a production designer. She is a staff writer and copy editor for FEM magazine, and Co-Founder of HIGHBALL media, a student production collective. She has written radio pieces for NPR's All Things Considered–which won her a Gracie Award for Women in Media. Her plays have been produced by Bay Area Zeta Players and the Inferno Theater Festival. She currently is a resident copywriter at the PEER Lab at UCLA, which conducts multisensory study into the creative practices of oppressed groups. She is the writer/director of the short film Goodbye Horses, currently in pre-production.

(Charlie also edited the proof-of-concept/teaser for Ghost of you!)













claudia elena rodriguez: producer

Claudia Elena Rodriguez (she/her)is a Cuban-American filmmaker from Miami, Fl. As a producer, Fairchild (dir. by Kali Kahn) was selected for Maryland Film Festival, Anchorage Film Festival, and Miami Film Festival with an online premiere through NoBudge, receiving over 25,000 views in the first six months. Her work as a director, writer, producer, and actor has been featured in Filmmaker Magazine, Miami New Times, Girls in Film, AQNB, and Hyperallergic. She lives in Los Angeles, working as a story producer on reality television shows for MTV and Paramount Plus.



anna mader: producer

Anna Mader (she/her) is a multidisciplinary artist, storyteller, and educator playing the role of producer for Ghost of you. Originally a Tennessee native, Anna has a bachelor's degree in Theater from UCLA and is currently pursuing her graduate degree in Media Studies at The New School.













autumn sylve: 1st assistant director

Autumn Sylve (she/her) is a multi-faceted performer and artist who is currently based in Los Angeles, California. Having starred in multiple theatrical productions, short films, and a feature; she owes her education to UCLA's School of Theater, Film, and Television where she graduated in 2019 and received a BA in Theater. Her writing has been published in the digital publication, Girls Write Shit, where she dedicates her work as a storyteller to the advocacy and honest representation of Black womanhood.














ly yang: gaffer

Ly Yang (they/them) is currently a fourth year student at UCLA, specializing in scenic/production and lighting design for film and theater. They've worked on a variety of UCLA department productions, ranging from designing theatrical plays to being a production assistant on graduate-level short films. The medium of their work also stretches from designing lights and sets for a traditional theater to generating 3D models for virtual reality, interactive performances, meant to explore a new digital space. They also work alongside student production companies such as the ColorBox Production Company to create meaningful art for marginalized communities, by members of those communities.



























alana francis-crow: 1st assistant camera

Alana Francis-Crow (she/her) is a writer and filmmaker based in Los Angeles. She's currently pursuing an MFA in Fiction from NYU's Paris Low-Residency program while also working on projects related to screenwriting, cinematography, and non-fiction writing. Some of her creative interests include queer stories, horror, and food.














mikaela jane: composer

Mikaela Jane (she/her) loves to capture ugly emotions into bright danceable packages. A California native, her vocal heavy, loop-infused pop has a distinctly west coast flair. Her past projects include two EP's, Exhibitionist and The Flowers…, as well as a couple singles. Her first full length album is set to release in 2022 alongside music videos and a few films she's been scoring from her bedroom.







tatum anderson: sound designer + mixer

Tatum Anderson (she/her) is a California based sound designer and production manager for film, theater, and interactive media. She recently graduated from UCLA's School of Theater, Film, and Television (class of '21) where she studied post production audio for film and games, live mixing, and stage management. Her most recent project with Center Theatre Group highlights her passions for immersive and technically innovative sound design. Learn more about Tatum and her work at https://tatumandersonproduction.com.




kaye speare: editor

Kaye Speare (they/them) is a post production specialist, experienced in both editorial production and picture editing. Notable productions include BoJack Horseman (2014-2020) as an editorial production trainee and The First Taste (2020) as picture editor. They are currently working as an editorial production coordinator at Netflix Animation on "Ultraman" (TBD) & picture editor on Down By the Water (2021). Their work has been showcased at 60+ film festivals including Cannes Film Festival (2nd assistant editor) & Los Angeles Film Festival (editor). Kaye is non-binary and uses they/them pronouns.

















nora mccoy: colorist

Nora McCoy (she/her) is a cinematographer and colorist from the California Bay Area. She studied film production at UCLA and now resides in Los Angeles where she enjoys cultivating her forest of house plants, cooking, and taking pictures of the moon in her spare time.

Our team includes many more incredible artists + actors! We cannot wait to be all together again early 2022 to collectively tell the story of
Ghost of you
!
CARGO COLLECTIVE, INC. LOS ANGELES, CALIF. 90039—3414